Grow Your Business With Us!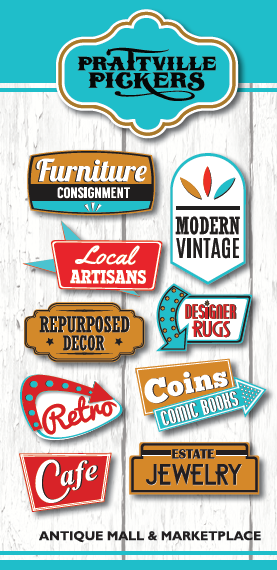 At Prattville Pickers, we consider ourselves a home for entrepreneurs and an incubator for small business!  With over 300 vendors and growing, we understand what it takes to meet your business needs.  We can assist you with the decision of growing your hobby into a profitable business.  Let us help you grow your customer base increase your name recognition, and promote your products by helping you create a retail space with the hassle and expense of a stand alone location.  Your retail space is now in reach at Prattville Pickers!
For more information, contact our Sales Manager
334-730-0266
FEATURES & BENEFITS OF RENTING WITH US!
Month-to-Month Rental
NO Sales Commission
NO Business Liscense Required
We collect & pay all Sales Tax
Competitive Booth Rental Rates
Infinitely more economical than a stand-a-lone location
On Site Storage Available
You Provide the Product and we
provide…

the cashiers!
the sales team!
the muscle

No hidden fees
No overhead –

No water bill
No costly electricity
No security cost
No Phone Bill

Website/Product Promotion Available
Extensive Advertising Budget –

Facebook & Instagram
Radio
T.V.